● GT GRAN TURISMO VARIATOR SET AEROX155

● The GT Gran Turismo variator set has been developed by Yuminashi for Yamaha AEROX 125 / AEROX155 to improve throttle response, acceleration and to boost the maximum top speed.
The factory top speed of an AEROX155 is 120 to 122km/h.
Once the variator is installed you can expect a new maximum top speed of 136Km/h to 140Km/h based on your personal weight.
● The durability and reliability aspect are really important to Yuminashi, and Yuminashi products, therefor the variator cooling capacity has dramatically been improved compared to the stock AEROX155 variator, and the narrow 12mm stock roller weights have been replaced by 15mm wide roller weights to spread the load and to avoid early roller weight damage.
The set comes with 10Gr roller weights, and you can find and order the different weight 15mm wide roller weights to install in this variator if you click this link.
● Not only the roller weights have been improved to avoid early damage, but also the nut on the crankshaft has been improved to avoid damage on the crankshaft while installing the variator.
The stock variator nut is too thin, and should never have been used to lock the variator.
Because a larger nut can't be installed, Yuminashi have optimized the width of the nut to give maximum protection to the crankshaft while installing the variator on the crankshaft.

***Don't install the variator with an pneumatic torque wrench, but tighten the nut by hand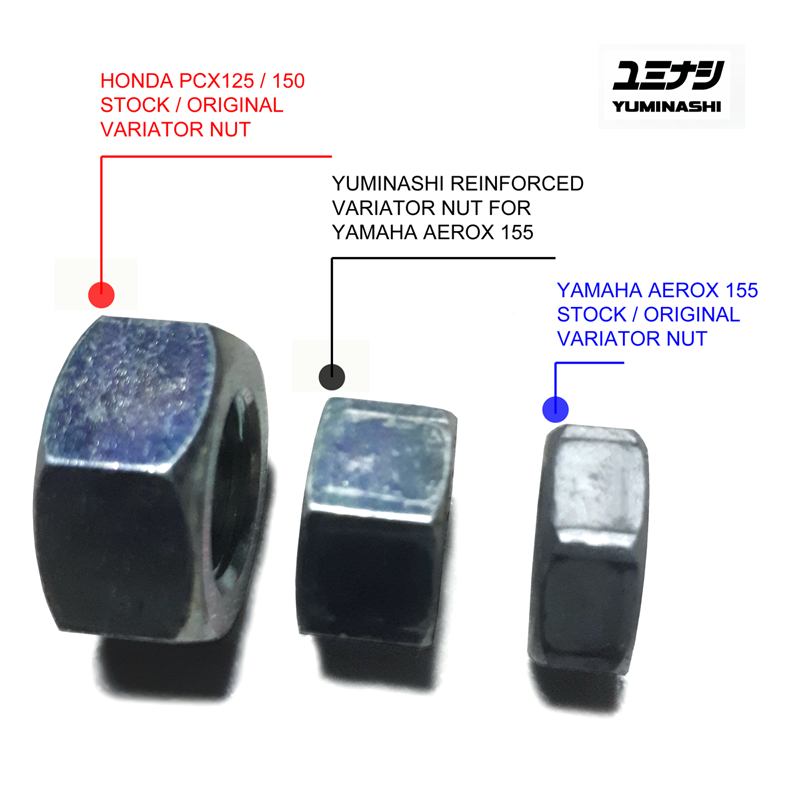 The rollers should be checked/changed every 1600km/1000 miles (per maintenance schedule) to keep your scooter running at peak performance. Over time, roller weights will develop flat spots which will impair the performance of your scooter. One will have this sooner as others and this based on the performance of your engine and your personal drive style. If you spend a lot of time on top speed then this will demand a lot more from both, your roller weights and your V-Belt, so both will need to be replaced sooner in this case as if it would be the case for someone with a more moderate drive style.
A good indication that your rollers are worn is increasingly high revs for a given speed and/or decreased top speed.
Replacing worn rollers with this set will restore, and actually improve your low-end power and especially your top speed. Fuel efficiency will also improve dramatically!